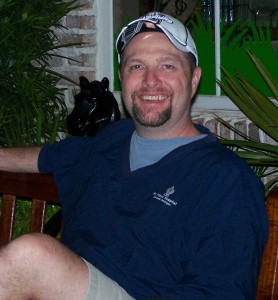 I am first and for most a husband and father and this happens to be the most rewarding and at time most difficult job I have ever taken on. Raising a family and having the ultimate trust and responsibility for them is challenging and rewarding. Everyday brings new challenges and new rewards and I count my blessings everyday that my 3 daughters are healthy and safe.
Secondly I have always been into gadgets. At a young age my mom said I always was pushing buttons, turning knobs and testing things to see how they worked. I often wondered if my Father who was an engineer had anything to do with my interest in gadgetry and how things work. Because of my constant interest in the mechanics of things I have become a handy man of sorts, a Jack of all trades if you will. I often joke with my wife that there is nothing I can't do!
I think this fascination of how things work has served me well over the years and actually lead me into the natural progression of computers and computer technology with my first computer being an Atari 800XL that I learned how to write some basic programs on and of course play Star Raiders on. Now as a sort of hobby I create multi media for personal use and also help friends, family and non-profit groups create websites for either personal use or to help with their causes.
Through the years and various jobs I have had I basically taught myself how to use computers and the programs that make them useful. I've always looked for how these computers could be used as tools to make things easier to do and more efficient. With working in the medical field for a number of years I realized that the natural convergence of computer technologies and healthcare was going to be inevitable and would be an incredible opportunity to help a tremendous amount of people. So with my clinical background and my knowledge of computers I put myself in a position to be in the right place at the right time and became the lead trainer when the hospital I worked for made the decision to use the Cerner Millennium electronic medical record systems in the hospital and emergency center where I worked.
After training the nursing staff and physicians on the new Cerner FirstNet system in the Emergency Center. I was offered a position as a Systems Analyst to help develop, implement, maintain and support the emergency medicine solution for Trinity Health. In the eight years I spent at Trinity I thoroughly enjoyed the challenges and accomplishments that as part of a team we were able to achieve and I rose to become a Senior Clinical Analyst with the company.
Most recently I have been working as a consultant and using my years of hospital experience and expertise in FirstNet, PowerNote ED and other applications to help clients get the most of their Cerner Products.
I am alway looking for the next challenge and for the next opportunity help make a difference. If you would like to find out more about my work skills and history please visit my LinkedIn profile and contact me for a resume.
Thanks for looking in.
If you like what you see buy me a beer!